DOWNLOAD
You can play for free by downloading the free BF2142 Demo client, installing it, clicking multiplay, and then looking for my server Choppergirl's Airwar. Do a google search for "BF2142 Demo client". You can have both the demo version and full version of BF2142 installed on the same computer, so by all means, if you buy the full version, download the demo as well so you can play all servers. The demo zone roxors, its a smaller community, everyone knows everyone else, and we run mods.
Want to fight me in aerial combat or otherwise? Download the BF2142 demo from one of the links below, then create an account, raise your in game video settings to something better than the default settings, click the Multiplayer tab, then Click the Advanced Tab, then log in to my server CHOPPERGIRL. The graphs below so the current number of players in the game for today, and average number of players on the server throughout the month.


Why Install and Play the Demos?
You can install it on as many computers as you want (all your home computers and laptop too)
No CD is required to be in the drive (a nuissance)
The Demos are freely available; everyone can play it and recommend it to their friends
With only one map, you become very familiar with the map
Level playing field; every game everyone starts afresh as equals, veterans have no advantage over new players beyond their inherent skill
No obsession with 'rank' found in the full game world
BF2 Demo Game Client - Free to download and play



Download BF Demo from Electronic Arts
Download BF2 Demo from File Front
Download BF2 Demo from GamersHell
Download BF2 Demo from FilePlanet
Download BF2 Demo through a Google search



PunkBuster Updater Client for Windows - Needed to install & update Punkbuster

---
BF2142 Demo Game Client - Free to download and play (now defunct - product sunsetted by E.A.



Download BF2142 Demo from Electronic Arts
Download BF2142 Demo from File Front
Download BF2142 Demo from GamersHell
Download BF2142 Demo from FilePlanet
Download BF2142 Demo through a Google search




Battlefield Full Games - Purchase online from Electronic Arts
To play on the AIRWAR servers located in the full versions of the games, you will need to buy full game copies of the games. Choppergirl's AIRWAR is not affiliated with EA or DICE in any way; I provide these links for your conveinence. I own them all and I recommend them all - simply to see some of the full maps you can play, which are gorgeous. You can buy the full versions online and download them immediatly from EA Link downloader through the EA online store pages below:

EA Store Battlefield Titles
Battlefield 2142 Full Game
Battlefield 2 Full Game
Battlefield 2 Full Game Complete Collection


There are some basic rules regarding access to my server. No hacks, they mess with the data stream and crash the server. No idle players; connecting and not playing just ties up a player slot from someone who actually wants to play. I kick both types agressively.

The main gotcha rule to know, is that the center silo / flag is a dedicaed knife only arena. Once inside the circle walls, you can only kill the enemy with a knife (weapon #1). If you or someone else kills someone in this area with any weapon other than a knife, they lose 10 points, and they are teleported to the Ship of Fools and they're HP is reduced to 1, or, if they are in a Vehicle, they are blown up immediatly.

There are no rules regarding combat on my server. My advice however, lest you desire the ire and contempt of everyone around, is not to be a retard. Basically, don't be a teamkilling retard and start a TK retaliation war on the Titan deck or in your main base. The TK punish voting system is enabled, and five punishes will get you kicked.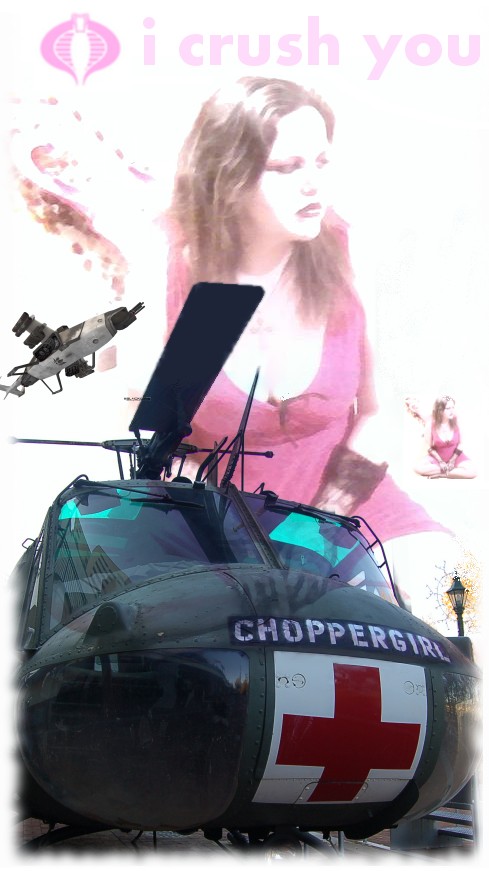 Home ~ Choppergirl / CG ~ Dorothy ~ Alice ~ Poor Girl ~ 14 Mile ~ Build Plan

Youtube ~ Cheapskate Flyer ~ Music to Fly to ~ Musicbox ~ Banner Graphix

Flags ~ Tshirts ~ Donate ~ Archive ~ Volmer Jensen ~ Greg ~ Gyros ~ Ultralights

Videos ~ Quadzilla ~ RotorBuilds ~ FPV Page ~ Edgy SoundPack ~ Steam ~ 50FFK


Click a menu link above to navigate around this website.
Email me! choppergirl@air-war.org


Contact & Website Administrator: choppergirl@air-war.org

. Without Rules, there are Infinite Possibilities, and
Unlimited Freedom of Choice to Become Everything that is You.
Statism is the Disease. Anarchism is the Answer.
. . . If a kid made a rule up on a playground, would you obey it?
That's all statism is, ntothing more, asshole kids making rules
and trying to force everyone else to conform and obey with violence.
Obey no strangers. Not obeying anybody or anything is the foundation of freedom.

Ultralight Homebuilt Airplanes, Kolb Ultrastar, Sonex, Aerolite, Rans RV, Kitfox, Weedhopper,
Hang gliders, Paramotors, Paragliders, General Aviation, Sports Aircraft, Biplanes, Drones,
Radio Controlled Planes, Helicopters, and FPV Quadcopters. Plans, Forum, Groups.